October 13th, 2009
Comments off
I recently bought a whole wild caught coho salmon (sans head) at Costco. At home I cut it into several about one inch wide steaks, made two on the bbq and froze the rest.
Reading a book on Japaneese food and cooking, I felt inspired to pick some part from the book and make a nice Asian inspired dish this weekend. The book is quite good, a large portion of it is just about Japan and it's culinary history, as well as about all the different ingredients used in Japanese cooking. Many of the things I see at the Asian market but have no idea what to do with are explained with photos. Oh, this book sells for 5.99 at Border's Books on the bargain shelves right now, a steal!
Let's start at the beginning and give the salmon it's moment in the spotlight:
The whole salmon, and I'm sorry, but I can't remember the weight, the coin should give you an idea of size. It was sold w/o head:
Since I never fillet one of these I decided to cut it into steaks instead. I tend to prefer steaks for grilling anyway and figured I'll learn the fillet tricks someday in person rather than shredding a nice fish.
When I put two of these on the BBQ recently I just took them as is, this time I decided to skin and debone them, as there were quite some bones to deal with last time. I also cut them in half along the backbone, so that I ended up with 4 nice boneless pieces of fish. I folded the thin part (belly flap) around to create one nice piece that would hopefully cook evenly.
I seasoned them lightly with some very good soy sauce (Kimlan super special) and a bit white pepper, then I transferred them to my nonstick frying pan that was heating on medium with some peanut oil in it. I cooked them on their side, figuring they'll stand better on the cut and cook evenly:
I came across a beautiful presentation for spinach in the Japanese cooking book that I wanted to try. They use fresh spinach, which I did not have, so I went with frozen whole leaf spinach instead. I blanched it in a little water then drained it in a colander and ran cold water over it to stop the cooking and keep the nice color. After sprinkling a bit of salt on top the spinach was squeezed very well to remove most of the liquid, then rolled into a log of about on inch diameter. This log is then cut carefully into small roll pieces. To garnish you dip one cut side into a bowl with some roasted sesame seeds, and voila, a gorgeous roll that looks like sushi! I drop of peanut oil and a small spoon of seasoned rice vinegar was all it needed to really shine:
As they now were cold I put them on one plate which I stacked on our dinner plates warming in the oven, by the time everything was ready they had warmed through nicely.
I also made some brown jasmine rice to which I added a bit of rice vinegar to imply sushi rice and added some finely cut scallion as garnish. Part of the green scallion was also fried with the fish to hide the fold of the meat. A bit of soy sauce was on the plate under and around the fish and a dash on the rice.
Of course, once it was all plated and ready to eat I forgot to take a picture of the finished plate! I tend to either forget step by step photos or the finished plate, something that will hopefully change once I run this blog for a while


So, here is a photo of the finished plate after I ate some of it already, sorry for the messy look: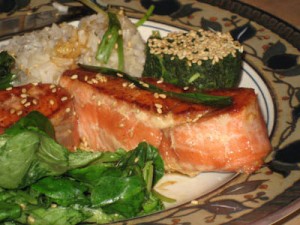 A great dish that I'll repeat, especially after my two year old declared "this is really good Papi!", which – of course – made my day and made me decide to virtually share this dish with you.
Quick and easy to make, you certainly can skip the roll making part for the spinach and the deboning of the fish. Saving those extra steps should make this a quick and delicious 30 minute dinner. Use high quality soy sauce, there are endless shelves to select from in our Ranch 99 market, I honestly simply shopped by price and took the one that cost $6 instead of one for $1.50. I'm very pleased with the one I bought, though I'm sure there are many others of just as good quality. I can't read much on the bottle, it's made in Taiwan. Not overly salty, with a very nice round and earthy warm taste, great for dipping!
Coming soon: The Big Bacon Project – 7lb 14oz of pork belly being transformed into one sweet and one savory Almond wood smoked bacon. Watch for it in a week or so, it's curing in the fridge as I type this.