Cooking with Ad Hoc at Home – Cauliflower Soup
I really love this book! There are quite some things I want to try my hands on, the first that I had flagged was cauliflower soup, which incidentally also was the first dish we got to try at a book signing with Thomas Keller, so I guess I really had to make it now

I made the whole recipe, which is supposed to give you about 6 portions. It uses two heads of cauliflower (4-5 lb), a leek, some onion, milk, cream and butter (of course), 1/4 tsp curry, s&p. and you add croutons and beet chips. All together it probably took me about 2hrs, though you could take quite some short cuts here, buy croutons, buy veggie chips, blend with an immersion blender if you don't mind it a bit more rustic and skip the cup of blanched and fried in butter florets on top. This could be a relatively quick to make dish if you skip those mostly presentational things.
In this cased I followed the entire recipe, except that I used curry powder I have from the Indian store.
I cut two heads of cauliflower into chunks, half an onion and one stalk leeks. I did not really measure these out in cups, just eyeballed it. They go into a pot with butter and 1/4 tsp curry powder and some salt, where they steam under a parchment paper lid (seems to be one of TK's favorite things and really does work very well) for some 20 or so min, until almost tender.
You add 2cups milk, 2 cups heavy cream, and 2 cups water, bring to a good simmer and let go for an other 30 min or so. Then you're ready to blend it all up. He recommends the VitaMix (I have a feeling that we have some paid product placement here….) which I don't have, I had to use our stone old: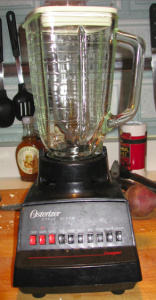 Oysterizer Cycle Blend, which actually did a fantastic job! I can't imagine what a VitaMix would have done better. I started on slow and eventually worked my self up the row of buttons until I hit liquefy and ended up with a super smooth light and foamy, velvety, almost whipped cream like soup, out of this world! Super creamy: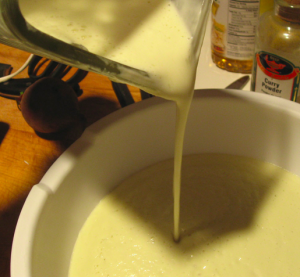 Once that's all done, you're basically good to go, you could just eat right now, but there are a couple garnishes to do if you want to copy the recipe exactly.
As I have never deep fried anything, I figured this is as good a time as any to try my hands at it, and I won't need a huge pot of oil. I took my smallest pot and filled it with about an inch of peanut oil, heated it up to 300 degree F. Meanwhile I peeled one beet and sliced it on my mandolin into very thin slices. Once the oil reached temp, I fried them in batches of 5: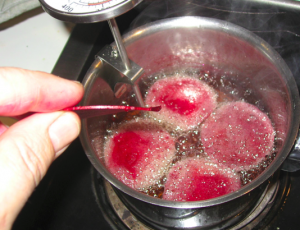 I put them on a cooling rack and salted them with fine sea salt.
Next it was time to blanche the cup or so of florets I had reserved, just in salted water with a dash of vinegar. Once done they go in a frying pan with a Tbsp of butter until browned. I used the same pan I had used for the croutons with the remainder of garlic oil still in there, figured I might as well.
Well, there you have it, soup, browned florets, croutons, beet chips. To plate I poured two ladles of soup on a bowl, added some florets in the center, croutons on top and a stack of chips on top of that. For a bit of color I added one water cress twig, sprinkled some black salt and pepper around and drizzled a bit of good olive oil on. Served with thick slices of rustic sourdough bread, this dish is heavenly! The soup is rich, fluffy, airy and light, very very tasty. The different add ons give great different textures, from soft to very crunchy and the bread is what you need to soak up every last drop and wipe the bowl clean.
This soup is delicious and I see lots of other add ons one could play with, things like bacon, different greens, etc. A flexible delicious base to play with. Or just stick to the book, I'll definitely make this again.
I still have a bit less than half of it for left overs, wondering if it would freeze well? Might try with just a cup to see what happens. This would be a great soup to bring for a potluck or to share at Christmas with family, just get some good quality croutons or make some that day, everybody can get a small cup to warm up and get ready for dinner!
I will be making more things from this book, it's not a 30min quick glop book, the recipes take some work, but it's also not the French Laundry book. It's full of recipes any good cook can make, if one is willing to spend a bit time in the kitchen. As you can imagine, I highly recommend this book, check in my store for a link to buy it via Amazon and support this site at the same time!
Oh, I just came across some nice video with Thomas Keller on the Borders Books site, check it out: